ALL THE SOUNDS OF THE EARTH ARE LIKE MUSIC
Lisa del Rosso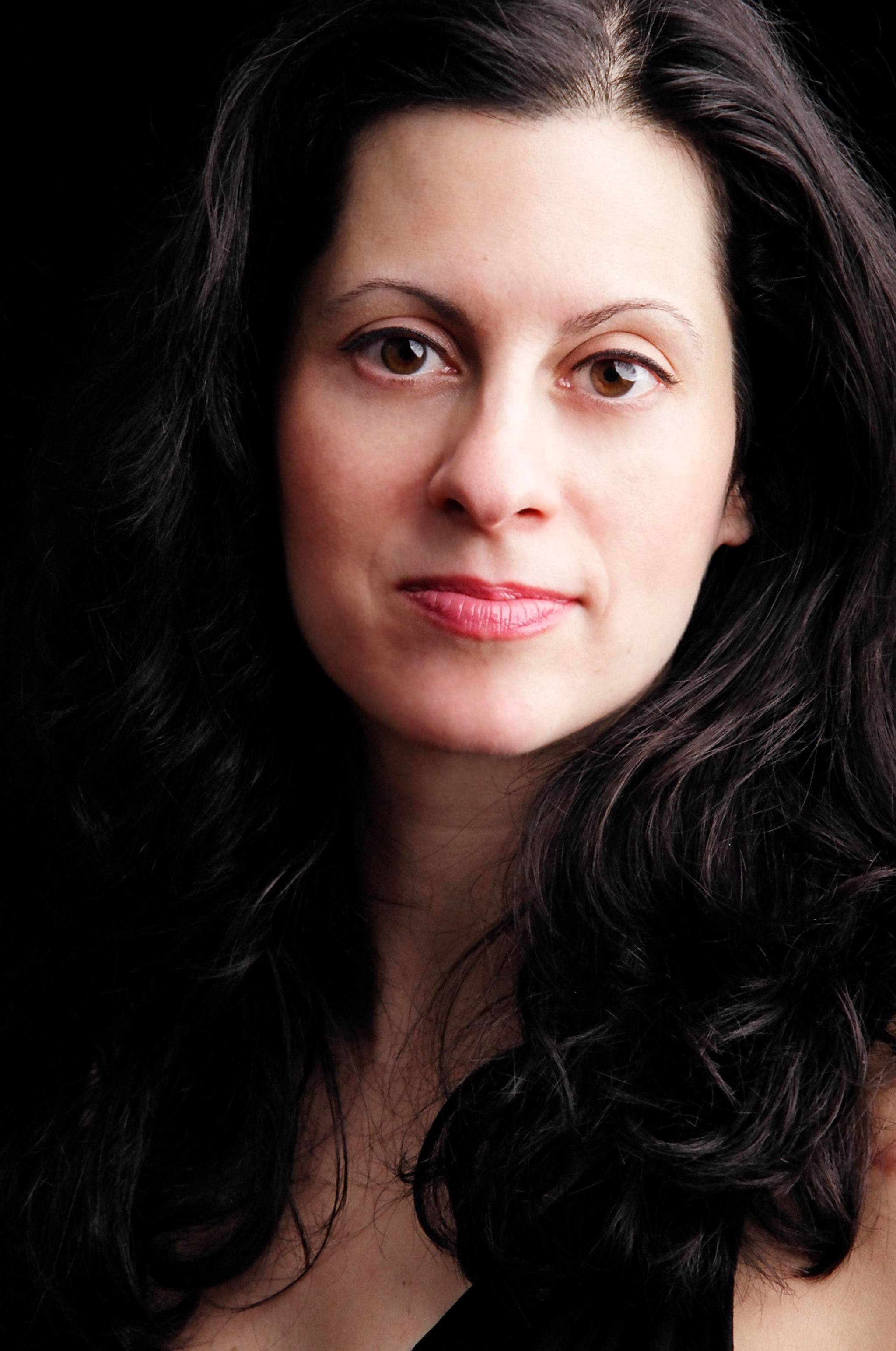 It was a sold-out house for Oklahoma! I was standing onstage in a yellow dress the costume mistress had made for me, with no bra on, as the dress did not permit a bra. I did not know that under the lights, the material was sheer, until I saw the photographs, and then understood why my tall, dark, rangy boyfriend at the time, who was also playing my love interest, Will, yelled, from the back of the house during a rehearsal, "What are you wearing!!" I just thought he was a prude (which he was, really, but also right on the money when it came to my breasts.)
We were all pretty much made up like hookers, and even though I was playing the slut part of Ado Annie, the girl who cain't say no, the musical was still located in Oklahoma, after all. I don't think they had much use for pink and purple metallic crayon eye shadow in the Oklahoma of 1907, but hey, what did I know? I was in the tenth grade. It was my first lead. The rest of the cast was made up of seniors and the women among them hated my guts, because a sophomore had never been cast in a lead in the school musical before. Fortunately, I was paired with mostly men, namely the gents playing Will and Ali Hakim, so I didn't have much contact with them. However, all of these same women were in my concert choir class, so I heard comments and whispers and nastiness. They couldn't be too overt, though, because running that choir with a steel hand was the formidable Mrs. Elizabeth Hodges, the choir director. She was also the director of the musical. She cast it. She conducted it. And it was her call to put me in it.
I had no confidence in school, largely because of my home life. In grade school, I was the only child in my entire class whose parents divorced, and the other kids, not knowing what to say to me, said nothing, only avoided me as if what was going on in my family was catching. I hunched over and wore baggy clothes because I had developed early; I crossed the street to avoid boys and their remarks. I sat at the back of all my classes, afraid to speak, though I made honor roll every semester. But I always loved to sing, so in the ninth grade, I took Mrs. Hodges' concert choir class.
I had heard that Mrs. Hodges was a great accompanist, arranger, and had a daughter at Juilliard. At the time, she was probably in her sixties or older. She looked like a sensible New England woman, with her beige shoes and beige twin-sets, her wavy grey hair cut short in a no-nonsense sort of fashion, and a wide slash of a mouth that could be down-turned with seriousness or take up most of her face when happy. She knew how to get the best out of a choir, stressing one pure sound, not a bunch of soloists competing to stand out. She hated contemporary music, but thought The Beatles were okay. I sang everything she handed out: Bach, Handel, Purcell. I loved every minute of choir, and how I felt while I was singing. I made it my business to learn the new music as quickly as possible, while also practicing at home. And after a while, she started to notice me. She took me aside and encouraged me to train classically. I had no money at the time, and knew my mother would consider voice lessons wasteful. Mrs. Hodges said she'd have a think. The next day, she told me she had found a patron of the arts who helped gifted students, and that this patron wanted to help me. So for four years, every Saturday I went into Boston and trained with a brilliant singer and teacher named Nancy Armstrong. Later, much later, I found out it was Mrs. Hodges who had done the funding.
So it was Mrs. Hodges who asked me to go out for the senior musical. It was an odd audition: I was kept there a long time, and every piece she asked me to sing, I did, and with ease, as the Rogers and Hammerstein score suited my voice beautifully, but mostly the songs were for the part of Laurey. The senior who got the role (also in the choir) told me after the cast list went up that she was offered either role, and though she was more suited to Ado Annie, she chose Laurey. When the run of Oklahoma! concluded, she confessed she played Laurey "too bitchy," and probably would have fared better as Ado Annie. I didn't care, because when I read the script and counted out how many kisses each character got, Laurey only got three, while Ado Annie got seven kisses from two different men, plus a roll in the hay.
I was hooked after that, totally hooked. In addition to the school shows, I joined a community theatre company, and took on roles such as Nancy in Oliver! and Sugar in Some Like it Hot. Also in the company was my prude of a boyfriend, and when he played Joe opposite my Sugar, he complained about every single one of my outfits, particularly the nightie I wore in the berth scene on the train. "What are you wearing!!" became a familiar refrain in our long relationship. He clashed frequently with Mrs. Hodges, because though he was prodigiously gifted: a wonderful baritone that was at ease with opera, musical theatre and jazz, a saxophone and guitar player, as well wonderful actor, she didn't like him precisely because he had a giant ego to back up all that talent. However, he is now on Broadway, and not for the first time, so he must have done something right.
I told my mother I wanted to be a professional singer, and she told me I'd change my mind. Meanwhile, Mrs. Hodges encouraged me to enter vocal as well as choir competitions, which I won (presumably, based on my vocal talent, although in a District competition, where all singers had to perform in quartets, in the comments section on my sheet, the judge wrote, "Nice hair!"). When I performed in other theatre companies' shows, she attended and would ask exactly one musical question, then send me a card of congratulations by mail. For "West Side Story," in which I sang the role of Maria, she hunted me down backstage during intermission and asked, with such a stern face I thought I'd blown it, "Was that you, hitting the high C during the quartet?" "Yes," I answered. "Good for you!" she said, suddenly light and cheerful, then departed. By the time eleventh grade began, I had decided to apply to music schools in order to pursue a performing career, a decision my mother was very unhappy with. But by that time, I had so much confidence in my ability, I don't think anyone or anything could have prevented me from doing so.
I was granted early admission to The Hart School of Music at Hartford University in Connecticut. I received many grants and music scholarships, plus my audition for the school went so well that the first year was free of charge. But I was so well trained that I was bored by Christmas, and, in my quest for more of something called "technique," auditioned for a music and drama school in London. I auditioned in New York, and I was the very last of the overseas students to audition, because my bus was late. The principal at the time, Roger Croucher, had a weary look on his face, as if he had seen and heard three thousand applicants before me. LAMDA was a post-graduate course, and he told me that I was quite young to be admitted without a bachelor's degree, but he would hear my audition regardless. Even though he brought his wife in to listen before I began, it sounded to me as if his decision had already been made, and not in my favor. After I sang, he said, "You have quite a mature voice for someone so young." I said, "Yes, I do." I went to London to complete my studies the year I turned 18.
I found some success in London as a singer/actor, which kept me there for nine years. When I came back to the States and moved to New York City, my career was terminally interrupted by a medical condition that prevented me from doing eight shows a week. Because I had no other creative outlet available to me, I began writing in order to cope, and, to my surprise, found a second vocation. The thrill of singing a roll onstage is different to the feeling when I write: there is actually more power in writing, because I can make my characters say and do whatever I want them to. For people with control issues, this is a wonderful thing. When cast as say, Eliza Doolittle in My Fair Lady, sure, I can interpret her in several different ways, but I am confined to the words she speaks, the songs she sings, and whatever direction I'm given. So when I came to write my first play, it began as a sort of monologue, and then other characters developed in my head that needed a voice. There was a tremendous freedom in being able to give those five characters unique voices, as long as they were authentic to the focus of the story.
Soon it was a full-length play called Clare's Room, which was performed off-Broadway at The New York City International Fringe Festival. I produced, but chose another woman to direct, as I was warned about developing megalomania. Opening night, I sat with the director at the back of the house, and listened to five characters that I had invented speak my words. I don't remember breathing, or having a heartbeat; I couldn't move. It was thrilling! Oh no, the actor dropped a line, but still thrilling! On the last night of Clare's Room, the actress playing the mother (who was also the widow of Raul Julia) blanked during her final monologue. But there was something else happening with her onstage that I couldn't quite decipher. Later, she told me that her late husband had materialized physically before her, and it took her a few seconds before she could recover and direct her monologue to him. To me, that is the beauty of theatre: every night is a thrill, because of the feeling that something unexpected could happen; some liberty an actor chooses to take with the text or the blocking that makes the performance, and the play, electric.
I long for that experience again, so I am at work on a second play. Part of me does miss performing, so I will sing for friends and family if asked; I even sang at my wedding at my mother in law's insistence, as she wanted to know if I was any good. In the back of my mind, I have a cabaret act forming, simply because it is a medium I have never tried, and because I'd like the intimacy of working closely with a band. The audience for cabaret is physically much closer than that of a theatre as well as being participatory, so being comfortable with patter and storytelling also intrigues me. At its best, cabaret blends performing and storytelling, such as Elaine Stritch at Liberty, which is a combination I find hard to resist.
I am in Provincetown, Massachusetts for a while, and on a whim, decided to try to locate Mrs. Elizabeth Hodges. According to Google, she is now 91 years old, and still lives in my hometown, south of Boston. I have not seen her since before I left for London. I tried to call, but the number listed is not correct, and I hesitate to just turn up on her doorstep. In my fantasy, she opens the door and has not changed one jot. She is happy to see me, and proud of what I have achieved. In reality, what if she opens the door and does not remember me? What if, after all this time, her face drops when I tell her I am a writer rather than a singer? What if, like the unsentimental person she was when I knew her, she dismisses the suggestion that she was the first person who believed in me, nurtured what gift she perceived I had, and changed my life irrevocably in ways that I could never have imagined, including my perception of myself? In the end, her reaction is incidental, because I know what she did for me, and though fervent gratitude must be hard to be confronted with, that is all I want to tell her.



LISA del ROSSO originally trained as a singer, and completed a post-graduate program at LAMDA (London Academy of Music and Dramatic Art), living in London and working as a performer for nine years before moving to New York City. Her play, Clare's Room, was performed at the 2006 New York International Fringe Festival. Her writing has appeared in a variety of publications, including Young Minds Magazine, Time Out New York and The Neue Rundschau. She reviews plays for theateronline.com and is currently finishing a novel and working on her second play. Lisa was invited for a residency at the Ledig House Writer's Colony and worked as a researcher and reader for the German publishing house, S. Fischer Verlag. She received her MFA in Creative Writing from Fairleigh Dickinson University and will be wrapping up her final term at Berkeley College, then begin teaching creative writing at NYU.
.

[copyright 2008, Lisa del Rosso]